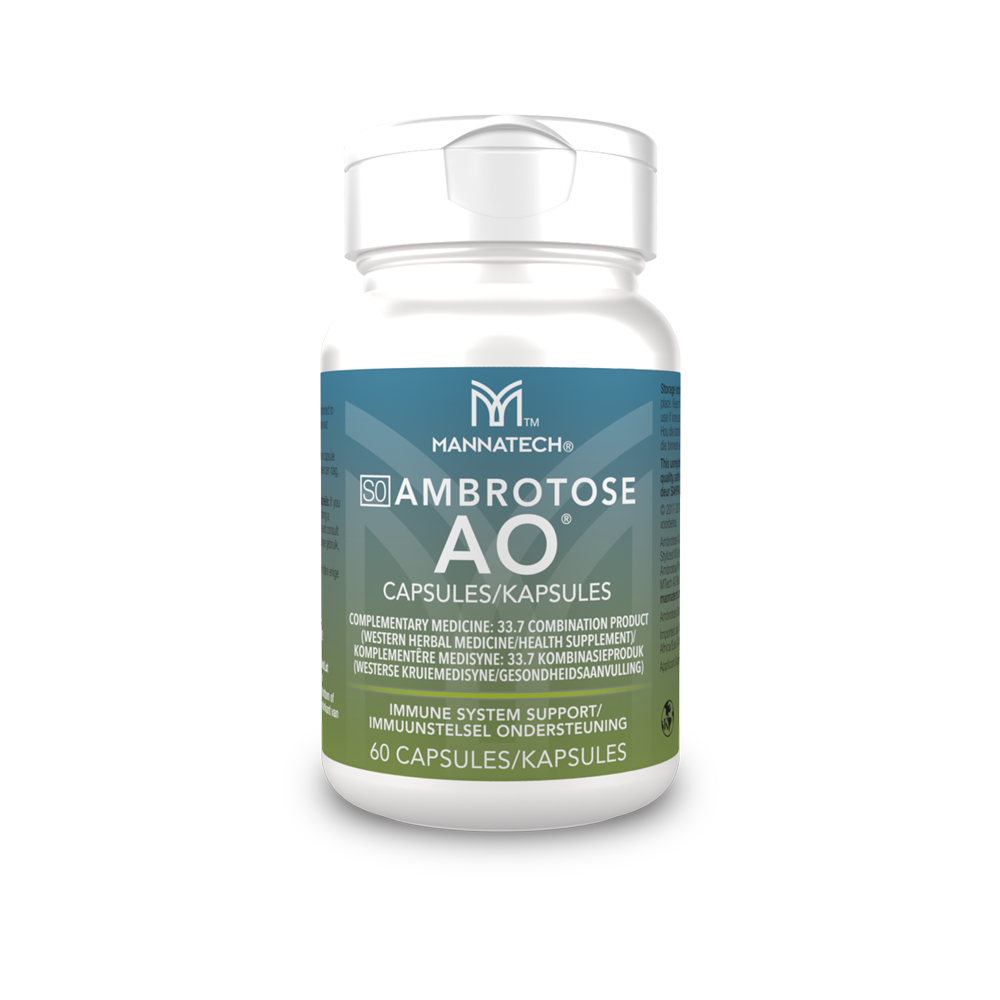 Fight back against oxidative stress
Mission 5 Million®
10
servings
of PhytoBlend™ powder are provided to a child in need with the purchase of this product.
Learn More
Product Information
Overview
Our most advanced antioxidant protection.
Formulated by Mannatech researchers and based on the latest science, Ambrotose AO capsules:
Provide immune support with Aloe vera, green tea and vitamin C.
Help protect your body from the harmful effects of oxidative stress, poor diet and environmental factors with vitamin E, Quercetin and fruit and vegetable powders.
Aloe vera has anti-inflammatory, antioxidant, detoxification and immune-boosting properties.
A powerful blend of antioxidants including vitamins C and E, grape extract, green tea and wild bush plum.
Papaya contains papain as well as carotenoids and has antioxidant and immunostimulant efforts.
Resources
Professional Information Sheet
FAQs
I'm allergic to Aloe vera. Can I use products that contain Ambrotose complex?
Ambrotose AO capsules contain aloe vera gel powder. Individuals with allergies or sensitivities to any ingredients in our products should always consult their personal physician before use.
What are Glyconutrients?
Simply put, they are specialised ingredients derived from plants and aloe that provide targeted nourishment for your cells. There are trillions of cells in your body that talk to each other, but environmental stress, age and bad eating habits can make it harder for them to communicate. This can lead to suboptimal health, which is why Mannatech, the innovator and pioneer of Glyconutrients, continues to cultivate this incredible technology so your body can do amazing things.
I'm allergic to many fruits and/or vegetables. Can I take Ambrotose AO capsules?
Our Ambrotose AO capsules contain broccoli, Brussels sprout, cabbage, carrot, cauliflower, garlic, kale, onion, tomato, turnip, papaya and pineapple. If someone has a sensitivity to any of these ingredients, they should be cautioned about the use of this product. Individuals with allergies or sensitivities to any ingredients in our products should always consult their personal physician before use.
Why are antioxidants important?
Antioxidant-rich nutrients help protect your cells against the harmful effects of toxins, environmental stress, poor diet and oxidative stress. Antioxidants also act as free radical scavengers.
What are free radicals?
Free radicals are reactive molecules that can enter your body and harm your cells. Toxins such as pollution, stress and even a poor diet can contribute to the creation of free radicals, which can lead to an acceleration of the ageing process. However, antioxidants reduce free radicals by contributing electrons to help maintain molecular stability.
Reviews
Reviews collected from North America
Enjoy the Convenience of a Subscription
Setting your order to be delivered to your doorstep automatically is not only convenient but it means the benefits of the products you are taking will keep contributing toward your ongoing health and wellness!
PLUS
Free Shipping
on every subscription
$199 or more!
PLUS
Loyalty Points
you can use towards
FREE product!